Tripod Grip Explained in Pictures
The Way You Hold Your Writing Implement Can Have a Big Effect on Your Early Writing
The tripod grip is something a child may naturally start to do around 3 to 4 years of age.
It's the classic grip for a pencil and is also useful when learning to fasten buttons.
An example of the tripod grip
A clasped grip - not a tripod grip
Not a tripod grip - the middle finger is not tucked behind the pencil
Its ok to help to get the fingers right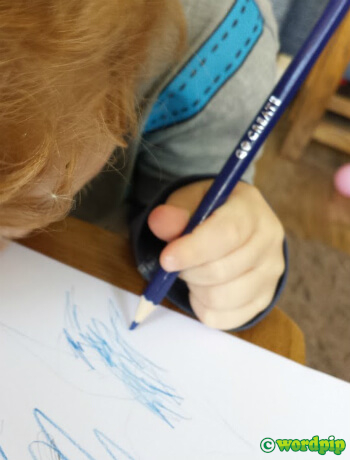 A tripod grip in early mark making
Tripod grips in early mark making can often appear and then are dropped by the child whilst they experiment
Tripod grip demonstrated by teacher
Tripod grip - note the middle finger tucked behind pencil
The tripod grip can help to make early writing much more steady and those early steps much more comfortable for the childrens hands.
How to improve a tripod grip
A practical tip
Try holding an eraser or a small piece of crayon with the last 2 fingers of hand whilst writing or mark making.
This will naturally make the fingers into a tripod grip.
Dont worry too much about the writing quality or the shapes made, its getting practice with the tripod grip that counts.
You could buy..
There are products that can help in learning the tripod grip. Here the ones we use.
Why we like them: These grips are sturdy and bright. When you need a little bit of help with making your first marks, shapes and letters these will help guide your fingers into the correct grip.
---
More articles
Why Times Tables are So Important
Three Threes are Nine - Is That Fine?
Find out why are the building blocks to furthermore complex mathematics
Helping Colour-Blind Children ...and Teachers!
Small Considerations Can Make a Difference
There are things you can do to help
7 Ways to Improve Your Child's Early Writing
And Have Fun Along the Way
Practical examples to get your child up and running with letters and sounds