Tracing Zigzags 2
Trace the zigzag patterns around planets and stars.
A worksheet pdf for preschool, kindergarten, reception, early elementary and primary ages.
Follow it with your finger and then move on to trace along the dotted line.
Helps to improve coordination.
Free to download.
About This Worksheet
This is an A4 size worksheet.
Trace the zigzag trails to the rocket.
Follow it with your finger or trace along the dotted lines.
Get familiar with the skills needed for early letter formation
and improve coordination.

Age range 3-5
This worksheet has been checked by a qualified teacher ✓
You might also like..
Another in the series of zigzag worksheets,
a free printable pdf worksheet
Can you trace all the zigzags?
---
The first worksheet in this series
of lowercase letter worksheets,
a free printable pdf worksheet for the letter a.
---
Why satpin?.
This useful combination of letters,
is taught in early phonics,
as they produce many cvc words
(cvc is consonant vowel consonant)
such as sat, pin, pat, tin, tap.
Play an online 'match the letters game'
Free to play using major browsers.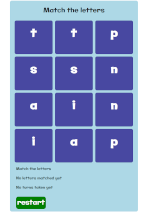 ---
A short approx 2 minute 30 video on YouTube
with examples of words that begin with the letter a.